u4ili6teto.bg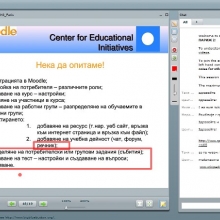 U4ili6TETO.BG is a Internet-based electronic platform for the management of the learning process that provides quality educational process, seen as a modern, attractive, capable of control over the results, rates, customizing educational content, etc.
The protagonists in this process is the teacher, and where implemented - school. In this sense U4ILI6TETO.BG initiative is part of the mission of the Center for Educational Initiatives to enhance the teacher's authority to make education accessible and quality anywhere and turn the school into a cornerstone in building trust between teachers, students and parents. For the period 2010 - 2013, the Center for Educational Initiatives has trained 768 teachers from secondary and primary school from 94 schools and 46 communities.
The Centre manages separate subdomains of schools in Sofia, Targovishte, Bourgas, Brezovo, Pleven, Taran, Bulgarian schools in Paris and Brussels in 6990 total users, including 722 teachers.