LETHE: Acknowledgements for a work well done!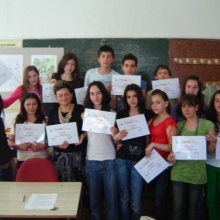 CEI awarded students from 104 SOU, Sofia who took part in the experimental phase of the LETHE project with honorary diplomas.
This happened during their last work meeting with experts, that took place on June 2nd 2009.
The teacher from 104 SOU Mrs. Kapka Krasteva presented a final report, which summarized the results of the students' work.
By using basic statements of the a EI theory the students learned how to identify, express and control their emotions.
In the end they filled in a questionnaire and gave evaluation points and recommendations.